A simple example of bathtub dynamics: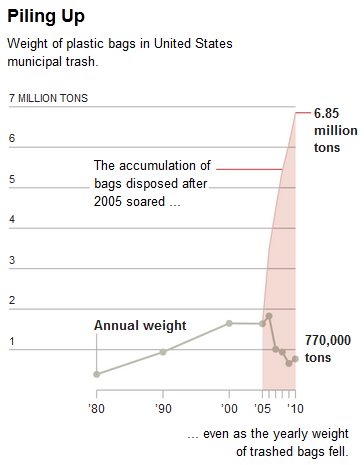 Source: NYT
The flow of plastic bags into landfills is dramatically down from the 2005 rate. But the accumulation is up. This should be no surprise, because the structure of this system is:

The accumulation of bags in the landfill can only go up, because it has no outflow (though in reality there's presumably some very slow rate of degradation). The integration in the stock renders intuitive pattern matching (flow down->stock down) incorrect.
Placing the flow and the stock on the same vertical scale, is also a bit misleading, because they're apples and oranges – the flow of disposal has units of tons/year, while the accumulation has units of tons.
Also, initializing the stock to its 2005 value is a bit weird. If you integrate the disposal flow from 1980 (interpolating as needed), the accumulation is much more dramatic: about 36 million tons, by my eyeball.