Over Christmas, with little fanfare, two new approaches to climate legislation were introduced, perhaps in response to the possibility that Boxer-Kerry's prospects are dimming. VentureBeat has a summary. The Kerry-Lieberman-Graham approach is just a "framework" and too vague for me to sink my teeth into. The Cantwell-Collins CLEAR act on the other hand is a real bill. Unlike the 1000-page ACES (Waxman-Markey), it's just about cap & trade,  so it's refreshingly brief – 39 pages. CLEAR sets targets,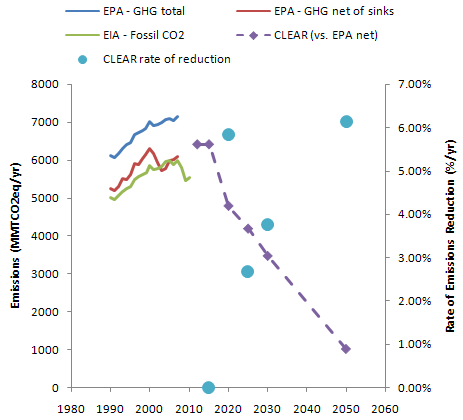 As in Waxman-Markey and other bills, the target trajectory is  mostly linear. That actually doesn't make much sense, because it implies a much greater proportional effort late in the game. Emissions reductions finish at >6%/year. If GDP growth is 3%/year, that implies a final intensity reduction rate of >9%/year, which is fairly delusional. Unlike Waxman-Markey, which is strictly linear, the first three years are flat, then there's a race to the 2020 target. It's good to harvest the low-hanging fruit quickly, but the 2015-2020 trajectory seems a little sporty.
The real emissions trajectory is unknown, because there's a safety valve price ceiling and floor, initially set at 7 to 21 $/tonCO2eq, and rising at the real interest rate, plus and minus 0.5%, respectively. The resulting prices neatly bracket EPA's expectations for Waxman-Markey without international offsets (Scn07 on graph):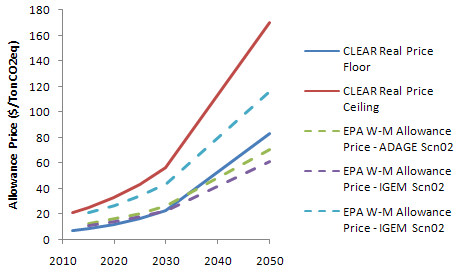 Source: EPA W-M analysis.
CLEAR is upstream, covering fuels at the minemouth, wellhead, import terminal, etc. This strikes me as a big advantage administratively and improves coverage as well. Offsets, funded by a set-aside from auction revenues, play a much smaller role, which is OK, because with better coverage there won't be as big a market. International offsets are also assumed to play a much smaller role (a few % of reductions, vs. roughly half of W-M reductions). That makes the true target trajectory much more aggressive, and raises expected permit prices a lot. Whether this is good or bad is ambiguous; one drawback is that there's potentially less "carrot" for developing countries, and less funding for forestry.
Unlike Waxman-Markey, CLEAR allocates most (75%) permits to citizens as "shares". That's bad news for coal-fired electric utilities, but possibly good news for low income residents of coal-intensive areas. My guess is that the totally flat distribution of revenue would more than compensate for regional inequities for the bottom quintile, who would come out ahead. The remaining permits go to a "CERT" fund for worker, business, and community transitions, stranded assets, targeted relief for energy-intensive industries exporting to countries without emissions controls, R&D, offsets and other usual suspects. There's room for a lot of good here, but also a lot of pork. I think it would make sense to partially phase out the fund in the future, as its revenues would likely rise beyond the need.
Like W-M, CLEAR includes a border adjustment (effectively a tariff on the embodied carbon content of imports). This, plus the potential trade measures in CERT, should make labor happy and infuriate WTO partners like China.
Strategically, CLEAR seems to leave more of the detailed design of the market and related mechanisms to the executive branch. I think that's a good thing. It's impossible to have a sensible debate about a piece of legislation the size of the Oxford dictionary. Add in the fact that this proposal is much closer to economic ideals for a cap & trade (upstream coverage, flat rebates, safety valves) and I'm liking this a lot better than ACES.