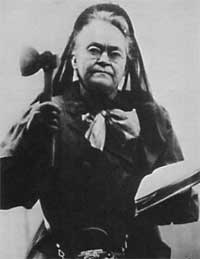 Prohibition was a personal triumph for Carrie Nation, and a disaster for the American nation. In her Smith College commencement address, Rachel Maddow translates that into some great personal advice. She makes the case very nicely for ethics that help us transcend short term pressures and build a future we can be proud of. It's tough to convince people to act when the dynamics of life are worse-before-better, but the vivid image of Carrie's hatchetations leading a nation to ruin are effective.
Incidentally, industrial alcohol is still poisoned with methanol today.
Hoisted from the comments – thanks to Cherilyn.