I'm at CNAS' climate war game listening to Diana Farrell from the McKinsey Global Institute. So far my takeaway from the exercise has been rather gloomy; Farrell presented a more hopeful view, informed by McKinsey's construction of supply curves for carbon emissions reductions. I found her opening point particulaly critical: don't wait for energy supply-side silver bullets to save us, when there are demand-side opportunities now.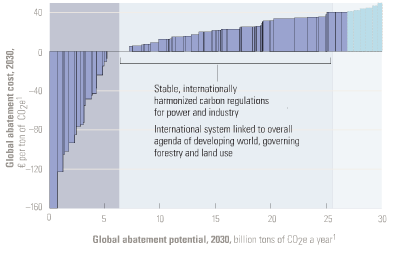 Per-Anders Enkvist, Tomas Nauclér, and Jens Riese, What Countries Can Do About Cutting Carbn Emissions, McKinsey Quarterly, April 2008
McKinsey's supply curves (and others from bottom-up modeling efforts) indicate large reductions available at low or negative cost. The idea of cheap negawatts has been around for a long time. Hard line economists have also been declaring the idea dead for a long time (see my old bibliography of the top-down/bottom-up debate).