Asmeret Naugle, Saeed Langarudi, Timothy Clancy propose to define System Dynamics in a new paper.
The defining characteristics are: (1) models are based on causal feedback structure, (2) accumulations and delays are foundational, (3) models are equation-based, (4) concept of time is continuous, and (5) analysis focuses on feedback dynamics.
I like the paper, but … not so fast. I think more, and more flexible, criteria are needed. I would use the term "characterize" rather than "define." The purpose should be to aid recognition of SD, and hopefully good SD, without drawing too tight a box around the field.
I particularly disagree with the inclusion of continuous time. Even though discrete time stinks, I think continuous time is a common but inessential feature, like continuous flows. Many models include occasional discrete events, and sometimes they're important. Ventity's actions are explicit discrete events between time steps, and they may modify model structure in ways that are key to an operational representation of reality.
My top-of-mind alternative framework looks like: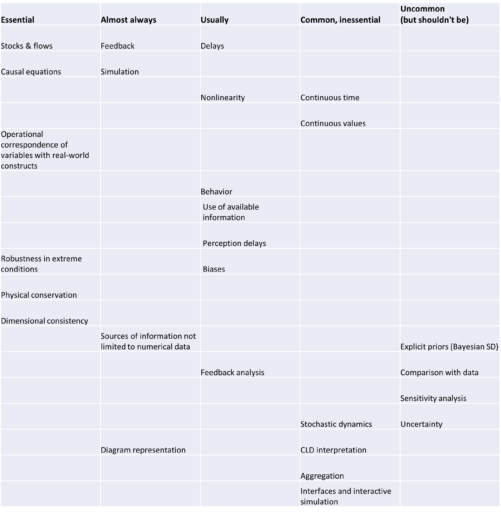 I think it's also helpful to describe things that are not SD:
Intertemporal optimization or rational expectations representing behavior
Computable general equilibrium
Linear regression
Linear programming
Mixed integer programming
Social Network Analysis (static)
Discrete ABM
Discrete event simulation
Equilibrium
Simultaneity
Sometimes it's easier to see the negative space, but there are exceptions to these rules.
I think it's notable that both frameworks exclude a variety of qualitative systems thinking approaches, like group model building or elicitation methods that create CLDs rather than simulatable models. I'm a big tent fan, and certainly some of the exceptions are common at the SD conference, but does that make them SD?
I think behavior is another challenging feature to describe. In my mind, System Dynamics is almost synonymous with behavioral dynamics. If you're building an economic model in which agents explicitly know the future (e.g., via intertemporal optimization), it's not an SD model (though you might be using it as a comparison case for some SD purpose). Yet there's a strong tradition of prize-winning biomedical models that lack behavior because they lack human agency. These are not easily distinguishable from what other fields might call ODEs or nonlinear dynamics. I would not want to eject those from the field, but neither would I want this to become our focus.
I'll be interested to see how the conversation evolves on this.