Is Groupon overvalued too? Modeling Groupon actually proved a bit more challenging than my last post on Facebook.
Again, I followed in the footsteps of Cauwels & Sornette, starting with the SEC filing data they used, with an update via google. C&S fit a logistic to Groupon's cumulative repeat sales. That's actually the end of a cascade of participation metrics, all of which show logistic growth: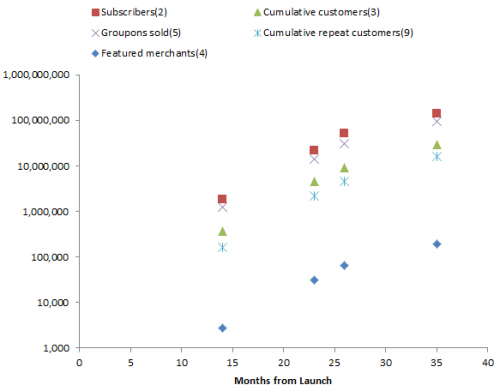 The variable of greatest interest with respect to revenue is Groupons sold. But the others also play a role in determining costs – it takes money to acquire and retain customers. Also, there are actually two populations growing logistically – users and merchants. Growth is presumably a function of the interaction between these two populations. The attractiveness of Groupon to customers depends on having good deals on offer, and the attractiveness to merchants depends on having a large customer pool.
I decided to start with the customer side. The customer supply chain looks something like this:

Subscribers data includes all three stocks, cumulative customers is the right two, and cumulative repeat customers is just the rightmost.