I've been reading the Breakthrough Institute's Waxman Markey analysis, which is a bit spotty* but raises many interesting issues. One comment seemed too crazy to be true: that the W-M strategic reserve is "refilled" with forestry offsets. Sure enough, it is true:
726 (g) (2) INTERNATIONAL OFFSET CREDITS FOR REDUCED DEFORESTATION- The Administrator shall use the proceeds from each strategic reserve auction to purchase international offset credits issued for reduced deforestation activities pursuant to section 743(e). The Administrator shall retire those international offset credits and establish a number of emission allowances equal to 80 percent of the number of international offset credits so retired. Emission allowances established under this paragraph shall be in addition to those established under section 721(a).
This provision makes the reserve nearly self-perpetuating: at constant prices, 80% of allowances released from the reserve are replaced. If the reserve accomplishes its own goal of reducing prices, more than 80% get replaced (if replacement exceeds 100%, the excess is vintaged and assigned to future years). This got me wondering: does anyone understand how the reserve really works? Its market rules seem arbitrary. Thus I set out to simulate them.
First, I took a look at some data. What would happen if the reserve strategy were applied to other commodities? Here's oil: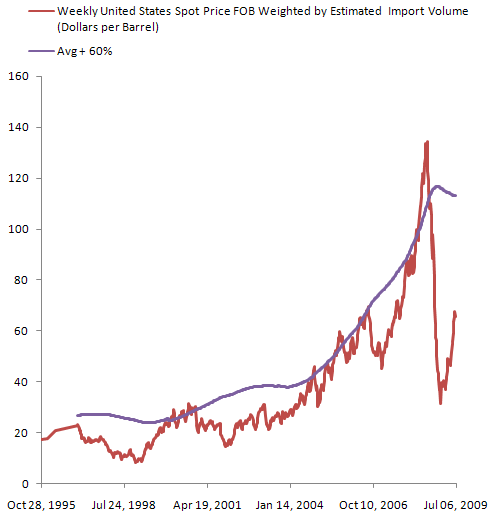 Red is the actual US weekly crude price, while purple shows the strategic reserve price trigger level: a 3-year moving average + 60%. With this trajectory, the reserve would be shaving a few peaks, but wouldn't do anything about the long term runup in prices. Same goes for corn: Continue reading "Strategic Excess?"