Env-Econ is one of several econ sites to pick up on standupeconomist Yoram Bauman's assessment, Grading Economics Textbooks on Climate Change.
Most point out the bad, but there's also a lot of good. On Bauman's curve, there are 4 As, 3 Bs, 5 Cs, 3 Ds, and one F. Still, the bad tends to be really bad. Bauman writes about one,
Overall, the book is not too bad if you ignore that it's based on climate science that is almost 15 years out of date and that it has multiple errors that would make Wikipedia blush. The fact that this textbook has over 20 percent of the market shakes my faith in capitalism.
The interesting thing is that the worst textbooks go astray more on the science than on the economics. The worst cherry-pick outdated studies, distort the opinions of scientists, and toss in red herrings like "For Greenland, a warming climate is good economic news."
I find the most egregious misrepresentation in Schiller's The Economy Today (D+):
The earth's climate is driven by solar radiation. The energy the sun absorbs must be balanced by outgoing radiation from the earth and the atmosphere. Scientists fear that a flow imbalance is developing. Of particular concern is a buildup of carbon dioxide (CO2) that might trap heat in the earth's atmosphere, warming the planet. The natural release of CO2 dwarfs the emissions from human activities. But there's a concern that the steady increase in man-made CO2 emissions—principally from burning fossil fuels like gasoline and coal—is tipping the balance….
First, there's no "might" about the fact that CO2 traps heat (infrared radiation); the only question is how much, when feedback effects come into play.  But the bigger issue is Schiller's implication about the cause of atmospheric CO2 buildup. Here's a picture of Schiller's words, with arrow width scaled roughly to actual fluxes: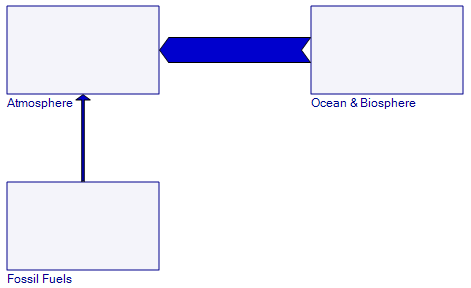 Apparently, nature is at fault for increasing atmospheric CO2. This is like worrying that the world will run out of air, because people are inhaling it all (Schiller may be inhaling something else). The reality is that the natural flux, while large, is a two way flow:
What goes into the ocean and biosphere generally comes out again. For the last hundred centuries, those flows were nearly equal (i.e. zero net flow). But now that humans are emitting a lot of carbon, the net flow is actually from the atmosphere into natural systems, like this: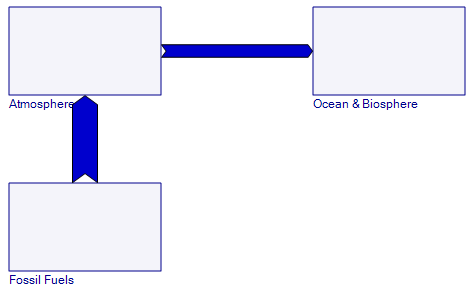 That's quite a different situation. If an author can't paint an accurate verbal picture of a simple stock-flow system like this, how can a text help students learn to manage resources, money or other stocks?