BLM Public Lands Statistics show that the federal government holds about 643 million acres – about 2 acres for each person.
But what would you really get if these lands were transferred to the states and privatized by sale? Asset sales would distribute land roughly according to the existing distribution of wealth. Here's how that would look:
The Forbes 400 has a net worth of $2.4 trillion, not quite 3% of US household net worth. If you're one of those lucky few, your cut would be about 44,000 acres, or 69 square miles.
Bill Gates, Jeff Bezos, Warren Buffet, Mark Zuckerberg and Larry Ellison alone could split Yellowstone National Park (over 2 million acres).
The top 1% wealthiest Americans (35% of net worth) would average 70 acres each, and the next 19% (51% of net worth) would get a little over 5 acres.
The other 80% of America would split the remaining 14% of the land. That's about a third of an acre each, which would be a good-sized suburban lot, if it weren't in the middle of Nevada or Alaska.
You can't even see the average person's share on a graph, unless you use a logarithmic scale: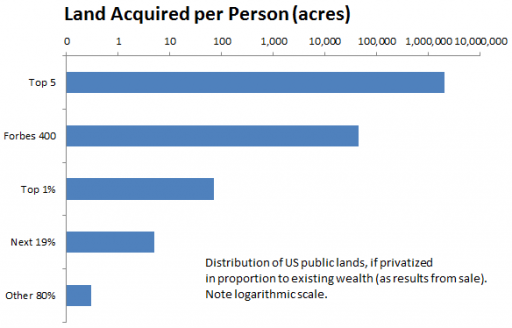 Otherwise, the result just looks ridiculous, even if you ignore the outliers: