The undead are rising from their graves to attack the living in Montana, and people are still using the Static Reserve Life Index.
http://youtu.be/c7pNAhENBV4
The SRLI calculates the expected lifetime of reserves based on constant usage rate, as life=reserves/production. For optimistic gas reserves and resources of about 2200 Tcf (double the USGS estimate), and consumption of 24 Tcf/year (gross production is a bit more than that), the SRLI is about 90 years – hence claims of 100 years of gas.
How much natural gas does the United States have and how long will it last?

EIA estimates that there are 2,203 trillion cubic feet (Tcf) of natural gas that is technically recoverable in the United States. At the rate of U.S. natural gas consumption in 2011 of about 24 Tcf per year, 2,203 Tcf of natural gas is enough to last about 92 years.
Notice the conflation of SRLI as indicator with a prediction of the actual resource trajectory. The problem is that constant usage is a stupid assumption. Whenever you see someone citing a long SRLI, you can be sure that a pitch to increase consumption is not far behind. Use gas to substitute for oil in transportation or coal in electricity generation!
Substitution is fine, but increasing use means that the actual dynamic trajectory of the resource will show greatly accelerated depletion. For logistic growth in exploitation of the resource remaining, and a 10-year depletion trajectory for fields, the future must hold something like the following: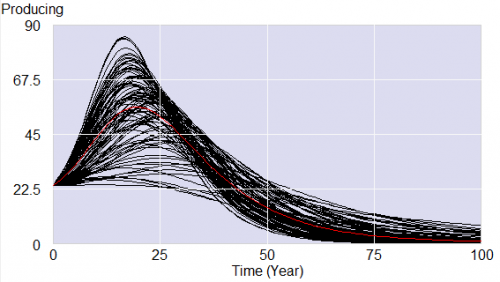 That's production below today's levels in less than 50 years. Naturally, faster growth now means less production later. Even with a hypothetical further doubling of resources (4400 Tcf, SRLI = 180 years), production growth would exhaust resources in well under 100 years. My guess is that "peak gas" is already on the horizon within the lifetime of long-lived capital like power plants.
Limits to Growth actually devoted a whole section to the silliness of the SRLI, but that was widely misinterpreted as a prediction of resource exhaustion by the turn of the century. So, the SRLI lives on, feasting on the brains of the unwary.