At the Balaton meeting, I picked up a report on happiness in Japan, Measuring National Well-Being – Proposed Indicators. There's a lot of interesting material in it, but a figure on page 14 stopped me in my tracks: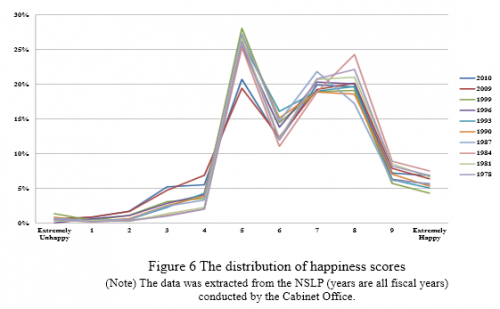 The distribution of happiness scores is rather strongly bimodal, and has been stable that way for 30+ years.
There might be an obvious explanation: heterogeneity – perhaps women are happy, and men aren't, or the reverse, or maybe a lot of people just like to answer "5". But the same thing appears in some European countries: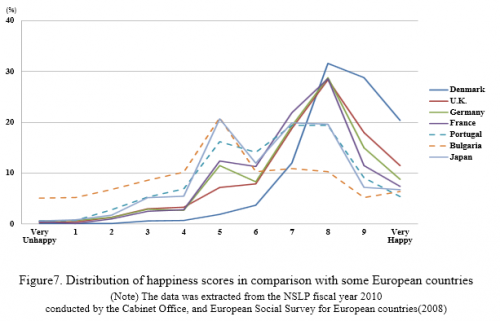 Denmark is obscenely happy (time to look for an apartment in Copenhagen) but several other countries display the same dual peaks as Japan. I wouldn't expect the same cultural dynamics, so what's going on?
A tantalizing possibility is that this is the product of a dynamic system. But if so, it's 1D representation would have to look something like,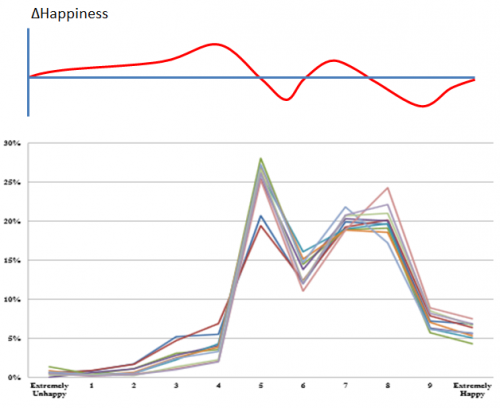 That's really rather weird, so perhaps it's just an artifact (after all, bimodality doesn't appear everywhere). But since happiness is largely a social phenomenon, it's certainly plausible that the intersection of several feedbacks yields this behavior.
I find it rather remarkable that no one has noted this – at least, google scholar fails me on the notion of bimodal happiness or subjective well being. A similar phenomenon appears in text analysis of twitter and other media.
Any theories?