At the top, the US coronavirus response seems to be operating with (at least) two misperceptions. First, that border control works. Second, that a lower fatality rate means fewer deaths. Here's how it really works.
Consider an extremely simplified SEIRD model. This is a generalization of the simple SIR framework to include asymptomatic, non-infective Exposed people and the Deceased:
The parameters are such that the disease takes about a week to incubate, and about a week to resolve. The transmission rate is such that cases double about once a week, if left uncontrolled.
Those fortuitous time constants make it really simple to model the spread in discrete time. First, abstract away the susceptible (who are abundant early in the epidemic) and the resolved cases (which are few and don't participate further):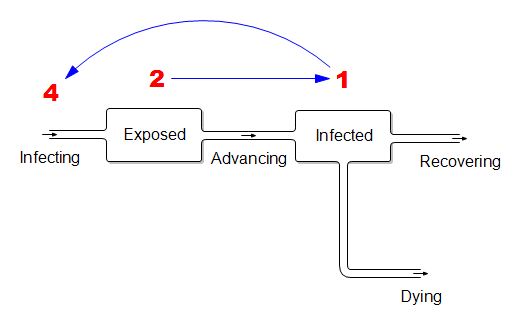 In this dirt-simple model,
This week's infected will all resolve
This week's exposed will advance to become next week's infected
Next week's exposed are the ones the current infected are infecting now.
If the disease is doubling weekly, then for every 1 infected person there must be 2 exposed people in the pipeline. And each of those infected people must expose 4 others. (Note that this is seemingly an R0 of 4, which is higher than what's usually quoted, but the difference is partly due to discrete vs. continuous compounding. The R0 of 2.2 that's currently common seems too low to fit the data though – more on that another time.)
What does this imply for control strategy? It means that, on the day you close the border, the infected arrivals you've captured and isolated understate the true problem. For every infected person, there are two exposed people on the loose, initiating domestic community spread. Because it's doubling weekly, community infections very quickly replace the imports, even if a travel ban is 100% effective.
Mild Cases
Now consider the claim that the fatality rate is much lower than reported, because there are many unobserved mild cases:

In other words, the reported fatality rate is Deceased/(Recovered+Deceased), but the "real" fatality rate is Deceased/(Recovered+Deceased+Mild Recovered). That's great, but where did all those mild cases come from? If they are sufficiently numerous to dilute the fatality rate by, say, a factor of 10, then there must also be 9 people with mild infections going undetected for every known infected case. That doesn't help the prognosis for deaths a bit, because (one tenth the fatality rate) x (ten times the cases) yields the same outcome. Actually, this makes the border control and community containment problem much harder, because there are now 10x as many contacts to trace and isolate. Fortunately this appears to be pure speculation.