I find panic-fueled iodine marketing and disingenuous comparisons of Fukushima to Chernobyl deplorable.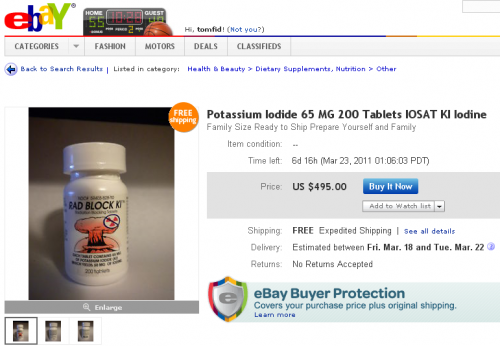 But those are balanced by pronouncements like this:
Telephone briefing from Sir John Beddington, the UK's chief scientific adviser, and Hilary Walker, deputy director for emergency preparedness at the Department of Health."Unequivocally, Tokyo will not be affected by the radiation fallout of explosions that have occurred or may occur at the Fukushima nuclear power stations."
Surely the prospect of large scale radiation release is very low, but it's not approximately zero, which is my interpretation of "unequivocally not."
On my list of the seven deadly sins of complex systems management, number four is,
Certainty. Planning for it leads to fragile strategies. If you can't imagine a way you could be wrong, you're probably a fanatic.
Nuclear engineers disagree, but some seem to have a near-fanatic faith in plant safety. Normal Accidents documents some bizarrely cheerful post-accident reflections on safety. I found another when reading up over the last few days:
Continue reading "Nuclear safety follies"