The pretty pictures look rather compelling, but we're not quite done. A little QC is needed on the results. It turns out that there's trouble in paradise:
the residuals (modeled vs. measured sea level) are noticeably autocorrelated. That means that the model's assumed error structure (a white disturbance integrated into sea level, plus white measurement error) doesn't capture what's really going on. Either disturbances to sea level are correlated, or sea level measurements are subject to correlated errors, or both.
attempts to estimate the driving noise on sea level (as opposed to specifying it a priori) yield near-zero values.
#1 is not really a surprise; G discusses the sea level error structure at length and explicitly address it through a correlation matrix. (It's not clear to me how they handle the flip side of the problem, state estimation with correlated driving noise – I think they ignore that.)
#2 might be a consequence of #1, but I haven't wrapped my head around the result yet. A little experimentation shows the following:
| | | | |
| --- | --- | --- | --- |
| driving noise SD | equilibrium sensitivity (a, mm/C) | time constant (tau, years) | sensitivity (a/tau, mm/yr/C) |
| ~ 0 (1e-12) | 94,000 | 30,000 | 3.2 |
| 1 | 14,000 | 4400 | 3.2 |
| 10 | 1600 | 420 | 3.8 |
Intermediate values yield values consistent with the above. Shorter time constants are consistent with expectations given higher driving noise (in effect, the model is getting estimated over shorter intervals), but the real point is that they're all long, and all yield about the same sensitivity.
The obvious solution is to augment the model structure to include states representing persistent errors. At the moment, I'm out of time, so I'll have to just speculate what that might show. Generally, autocorrelation of the errors is going to reduce the power of these results. That is, because there's less information in the data than meets the eye (because the measurements aren't fully independent), one will be less able to discriminate among parameters. In this model, I seriously doubt that the fundamental banana-ridge of the payoff surface is going to change. Its sides will be less steep, reflecting the diminished power, but that's about it.
Assuming I'm right, where does that leave us? Basically, my hypotheses in Part IV were right. The likelihood surface for this model and data doesn't permit much discrimination among time constants, other than ruling out short ones. R's very-long-term paleo constraint for a (about 19,500 mm/C) and corresponding long tau is perfectly plausible. If anything, it's more plausible than the short time constant for G's Moberg experiment (in spite of a priori reasons to like G's argument for dominance of short time constants in the transient response). The large variance among G's experiment (estimated time constants of 208 to 1193 years) is not really surprising, given that large movements along the a/tau axis are possible without degrading fit to data. The one thing I really can't replicate is G's high sensitivities (6.3 and 8.2 mm/yr/C for the Moberg and Jones/Mann experiments, respectively). These seem to me to lie well off the a/tau ridgeline.
The conclusion that IPCC WG1 sea level rise is an underestimate is robust. I converted Part V's random search experiment (using the optimizer) into sensitivity files, permitting Monte Carlo simulations forward to 2100, using the joint a-tau-T0 distribution as input. (See the setup in k-grid-sensi.vsc and k-grid-sensi-4x.vsc for details). I tried it two ways: the 21 points with a deviation of less than 2 in the payoff (corresponding with a 95% confidence interval), and the 94 points corresponding with a deviation of less than 8 (i.e., assuming that fixing the error structure would make things 4x less selective). Sea level in 2100 is distributed as follows: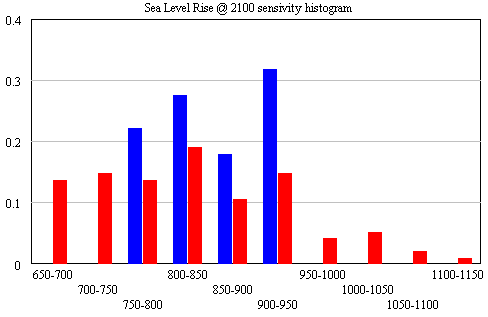 The sample would have to be bigger to reveal the true distribution (particularly for the "overconfident" version in blue), but the qualitative result is unlikely to change. All runs lie above the IPCC range (.26-.59), which excludes ice dynamics.
Continue reading "Sea Level Rise – VI – The Bottom Line (Almost)"