I like green labeling, but I'm not convinced that, by itself,  it's theoretically a viable way to get the economy to a good environmental endpoint. In practice, it's probably even worse. Consider Energy Star. It's supposed to be "helping us all save money and protect the environment through energy efficient products and practices." The reality is that it gives low-quality information a veneer of authenticity, misleading consumers. I have no doubt that it has some benefits, especially through technology forcing, but it's soooo much less than it could be.
The fundamental signal Energy Star sends is flawed. Because it categorizes appliances by size and type, a hog gets a star as long as it's also big and of less-efficient design (like a side-by-side refrigerator/freezer). Here's the size-energy relationship of the federal energy performance standard (which Energy Star fridges must exceed by 20%):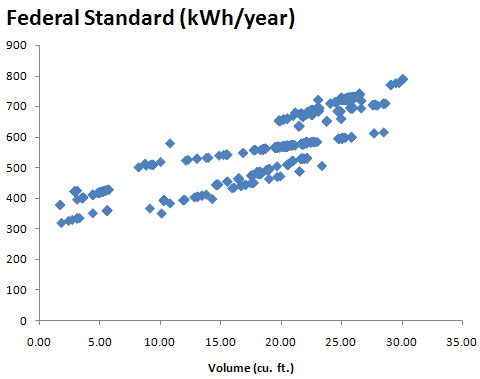 Notice that the standard for a 20 cubic foot fridge is anywhere from 470 to 660 kWh/year.